Binbaşı
21 Temmuz 2006
Tarihinde Katıldı
Görüntülenme
Toplam: 95 (Bu ay: 0)
Yapımcı:
THQ
Dağıtımcı:
2XL Games
Platform:
Xbox360 & PS3
Çıkış Tarihi:
04/08/2008
Multiplayer:
1-12 (4 kişilik split-screen)
Tür:
Yarış
http://www.bajagame.com/
quote:

Baja features a mix of locations, including Laughlin, Nevada, Canyon Lake and Canyon de Chelly in Arizona, and Mexico. The races will take place across 95 different courses broken into circuit, class and off-road challenges. What's more, players will work their way up through nine different car classes, starting off with lowly Volkswagen buggies and 4x4 trucks to the trophy truck, the highest rated division in the game. Cars in this class, like the licensed Terrible Herbst truck, cost more than 1.5 million dollars and pack a punch of 800 horsepower. They also bring in a lot of money thanks to the sponsors plastered on the car panels. More than 400 sponsors are included in the game, and players will earn money in one of two different ways: purse winnings based on your position when you cross the finish line, and sponsorship contingent on the condition of the car panel. Ruin a sponsor's logo by rubbing too hard, and you can forget about a check for that race.
168 different licensed vehicles are available in the game to race in or against, each with their own tunable systems. In fact, gearheads will be able to modify just about every system, with more than 400 upgradable parts. This means that you can switch out the cams, block, cooling system and tweak the stiffness of the dual layer shocks, amongst other elements of the vehicle. Thanks to the variable load engine simulation, you'll be able to hear whether a car is idling high or running too rough during a race, and you can adjust accordingly. You'll also be able to keep track of the condition of your machine thanks to a set of gauges that monitor oil and water, tire pressure and brake condition, as well as your shocks and clutch.
Managing all of these elements will be important when it comes to taking on your competition in offline or online races. Baja supports up to ten racers in multiplayer play, as well as four player splitscreen on a console. During a single player campaign, drivers will go up against ten opponents, each with their own individual AI that will remember how you race against them. If you're overaggressive on tracks, bumping opponents or cutting them off, they'll actively seek to block you in future races. On the other hand, if you honk to let them know you're on the way, they may pull over slightly and give you a chance to advance past them. This can sometimes make the difference between success and failure, particularly when it comes to extended off-road challenges like the Baja series.
There are 9 different Baja races: six Baja 250s, two Baja 500s and the Baja 1000, which has been compressed into a 300 mile race that takes four hours of real time to complete. That's quite an undertaking for anyone without any kind of interruption, so 2XL Games put in the ability for the AI to take over and run the race for you if you suddenly get a call on the phone or have to run to the restroom. This feature can be triggered during single or multiplayer matches, and while the AI will be a little slower in its overall speed, it will respond exactly the way a normal human would. While the inclusion of the AI is impressive, another feature that's extremely cool is that you can play the game in Panoramic Mode. The driving rig at the event featured three 360s hooked up to three separate monitors to give a larger glimpse of the course itself. Only one system was hooked up to pipe sound through the 5.1 surround sound speaker system, but it was truly impressive. We were told that the same feature will be included in the PS3 version, and that both look and run exactly the same. Assuming that you have the televisions and systems to run in this mode, you could have the ultimate off-road racing experience when Baja is released later this year.

IGN.com
---
quote:

Grafik yönden pek iyi değil fakat detay açısından iyi gibi, oyun Laughlin, Nevada, Canyon Lake and Canyon de Chelly in Arizona, and Mexico bu bölgelerde geçecek ve 168 tane lisanslı arabanın yanında 400'den fazla upgradable parçalarla araçlarımızı her yerinden geliştirebileceğiz. Ayrıca mesela Single Player oynarken diğer yarışçılarla yarışda onlara nasıl davrandığınız önemli diyelim adama kaza yaptırdın yada kenara ittirdin, sonraki yarışlarda sizede aynısını yapabilir. Veya eğer onlara yarışlarda iyi davranırsanız yol verirseniz onlarda aynı şekilde size yapacaktır. Oyunda 9 çeşit baja yarışları var bunlardan six Baja 250s, two Baja 500s and the Baja 1000 bir kaçı ve bazıları 300 millik alanlara sahip bu da demek oluyor ki yarışlar bazen 4 saate kadar uzayabiliyor ayrıca 1000 millik alanların da olduğu söyleniyor. Yani grafik açıdan iyi gözükmüyor evet fakat özellik olarak fena değil gibi...
---


Oyun çok detaylı geliyor fakat resimlerden anlaşılacağı gibi grafikden birşeyler beklemeyin



Videolar için:http://www.gametrailers.com/game/6580.html



---
Dağıtımcı: Atari
Yapımcı: Eden Studios
Tür: Aksiyon-Adventure
Platform: Xbox360,PS3,PS2,PC ve Wii
Çıkış Tarihi: 24/06/2008
(PS3 çıkış tarihi kasım)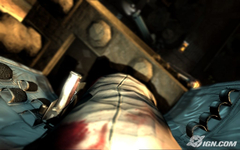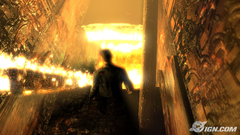 quote:

Coming to Windows this October is Painkiller: Overdose, which will introduce a new character and storyline to the Painkiller universe. The MindWare-developed shooter will feature six new weapons, sixteen unique levels, and a plotline that examines the ramifications of Lucifer's defeat at the hands of Daniel in the original Painkiller. Over forty new monster types have been added, as well as new end bosses and a reshuffled Tarot deck that will infuse Belial with new powers.

"We are thrilled to be endorsing this project and look forward to working closely with MindWare Studios," said Albert Seidl, President and CEO for the JoWooD Group, co-publisher of the game, along with DreamCatcher Interactive.

In addition to new weapons and levels, Painkiller: Overdose will re-emphasize a strong multiplayer focus via several stat tracking features and game server options that feature compatibility will all original Painkiller maps and game modes.

"The excitement from Painkiller fans around the world is mounting," Albert Seidl continues, "and we will be happy to deliver what they've been waiting for!"

Packed with tons of fast-paced, adrenaline-fueled single player and multiplayer levels of mayhem, Painkiller: Overdose brings with it 6 innovative new demonic weapons, mind-bending physics, lightning-fast multiplayer maps, over 40 demented and sickly-twisted monsters from Hell and gigantic end bosses.

Painkiller: Overdose will arrive on the PC this October.


Gene bir painkiller klasiği bizi bekliyor anlaşılan...


HD Video 38MB
PC ve Xbox360 için çıkacak olan oyunun oyun içi videosu yayınlandı.

Normal Video 33.4MB
HD Video 104MB
Sistem ve Tercihleri
Operatör
Vodafone
ISS
Superonline
TV
Sony
Klima
Arçelik Active Plus Plasma
Temel Bilgiler ve İstatistikler
Aktiflik:
Şu anda DH'de değil
Son Giriş:
2 hafta önce
Son Mesaj Zamanı:
2 yıl
Mesaj Sayısı:
1.856
Gerçek Toplam Mesaj Sayısı:
2.134
İkinci El Bölümü Mesajları:
94
Konularının görüntülenme sayısı:
125.594 (
Bu ay:
16)
Toplam aldığı artı oy sayısı:
795 (
Bu hafta:
0)
En çok mesaj yazdığı forum bölümü:
Oyun
Mesajları
İkinci El Referansları